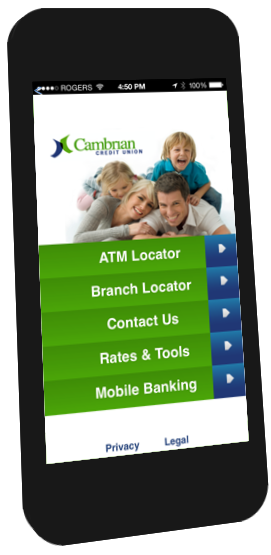 Problem:        
Cambrian Credit Union Ltd. wanted to enter the Mobile App Market to ensure their users would have access to important banking information anytime and anywhere.
Solution:        
Krisco Designs Inc. created an intuitive iPhone app with access to branch information and a Mortgage Calculator Tool.  General information about rates and mortgages is sent to the mobile device from the bank's servers so the user receives what's most current.  The app also allows its user to find the location of and their distance from the bank's ATM machines using the iPhone's GPS feature.
"Krisco Designs wrote an iPhone App for Cambrian Credit Union.  This app includes a locations list, rates and mortgage calculator, as well as other functionality.  We are pleased with what they wrote and the timeframe in which this was produced."
Lynne Mackan-Roy, (Title)
Cambrian Credit Union Ltd.
"When it comes to exceptional products we stand out because we know it's all about heart. Passion Delivers Results. Every Time."
Kris Bray, President